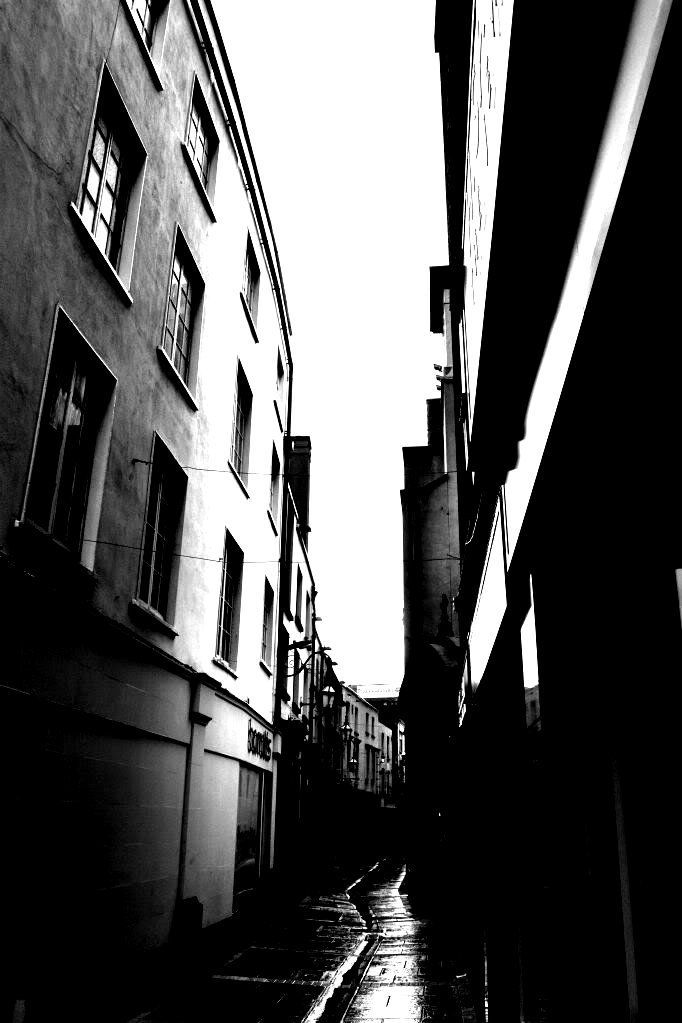 I delight in winter's darkness. Often in the early hours of a crisp, clear day I'll take my hat and coat and walk Dublin's winding backstreets. I watch the embryonic dawn, every shade of blue spread across the sky from horizon to horizon. Day has made but the first faint strokes upon the canvas of the city and there is mystery behind every door, around every corner. Sometimes the long shadows cast by the oblique rays of the rising sun don't stop at the cold walls of the city's buildings, or the stone of its paths. In the slow silence of a winter's morning the shadows can also cross one's soul. The crisp air seems to buzz with a ethereal electricity as it swells around my skin and the ghosts of my breath. It's like a fleeting glimpse at death itself, in all its terrifying allure.
But there's another kind of shadow, one that comes and goes without warning, one that appears to be cast by an invisible presence. Phantom-like, it walks unimpeded through the walls and boundaries of my moods and circumstances. It darkens the present, the past and the future. When it falls a state of psychic somnolence comes over me and every action seems laborious and futile. A vague anxiety seeps into my thoughts, as if the consequences of some unknown misdeed loom close. For every minute the shadow rest its effects become more profound. Sometimes it passes in a moment, on other occasions it hangs for weeks on end. Its onset can be gradual, but just as often I find myself in its midst before I even see its approach.
Unlike most others, these emotions do not seem to match any stimuli in the outside world. When one experiences something sad in life, a normal emotional response is to reflect that sadness in one's own feelings. However, with these shadowed emotions it is often the case that my circumstances are either neutral or indeed happy, yet I find my state of mind reflects a far darker, unseen vista. There is also a lack of correlation between recalling past sadness and the onset of this emotional condition. The ultimate effect of these combined facts is that I cannot control or predict the emergence of these feelings. That is, of course, without the use of mind altering substances.
In most of the world alcohol is in an extraordinarily privileged position when compared to almost every other commonly used mind altering drug. As anyone who can rightly claim to be experienced in the use of a wide variety of drugs will attest, alcohol's legal status is in no way a reflection of a relative lack of potency compared to many illegal drugs, nor a lower propensity to harm users. As a drug, alcohol's culpability is equal to all the other usual suspects, heroin, cocaine, speed etc, but unlike them, it can be purchased and consumed in enormous quantities with impunity. Although I may occasionally dabble in brief flirtations elsewhere, the ease with which alcohol can be procured means that, like a loving husband to his wife, I always return to alcohol in the end. It is my drug of choice and it is the light I shine into the dark crevices of my mind where the phantoms reside.
As with many of the best relationships in life, my first encounters with my future companion were less than amicable. Like a man of character, alcohol doesn't seek to impress at first contact with effusive gestures of cordiality. It presents itself to you, stubbornly unpalatable, and it is often judged unpleasant even after a number of meetings. Character, however, invariably shines through. Eventually I let my guard down and allowed alcohol to reveal itself to me in its entirety. At once all the fuss and fizz made sense. My world became simple, easily understood. Problems became opportunities, enemies became friends and doubt became cast iron certainty. I had finally seen the truth behind the taste and I never looked back.
Without alcohol, my mind is a crap shoot. I can roll double sixes every day for weeks, but inevitably the time will come when I see snake eyes. This game is daily, so the odds are I will end up losing a hell of a lot in the long run. Any seasoned gambler will tell you, the only way to beat the odds long term is to cheat, so that is exactly what I do. In the game of mental craps, alcohol is my loaded dice, my way of skewing the odds in my favour. With alcohol I don't have to lose another game ever again. A glass of whiskey with my morning coffee sets it in motion. The warmth flows over my throat and curls about every organ and blood vessel until I swell with its cherry heat. Soon it spreads from my finger tips and into the world around me, brightening its edges, its faces and prospects. The shadows may rise, but in this world of light they can do little but scurry from corner to corner, observing me from afar. From then on, drunkenness comes in slow pulses. The first sign of a fall towards sobriety calls for a glass of Cognac in a nearby pub, a furtive swig from a bottle of orange and vodka in the library, a briskly choked down can of cider in an alleyway, a bottle of cheap rum on a park bench, a few extra glasses of wine over dinner with some friends or several whiskeys afterward at the bar.
I wish to avoid the drawn out tedium and annoyance which would be unavoidable if my friends or family were to discover my alcoholism and therefore, outside of social occasions where such behaviour is encouraged, I rarely allow my drunkenness to reach a point where I can no longer control my outward appearance sufficiently to appear sober. However, due to tolerance and my improved ability to conceal inebriation my previous limits are probably half what they are now. Of course alcoholics are not a group known for their self control, so inevitably I stray into the realms of utter drunkenness, even when doing so puts me at risk of discovery. Perhaps the most poignant point at the heart of this affair is that, upon reflection, extraordinary inebriation often goes unnoticed simply due to a lack of genuine communication amid the sea of pleasantries and platitudes. The use of mouthwash and coffee is sometimes necessary to hide the smell of alcohol from my breath, but I find that if I wish to hide from somebody, for example, the fact that I just drank half a bottle of whiskey in the fire-escape, it is preferable to state that I had a casual drink with a friend rather than attempt to conceal the odour. The best lies carry an element of truth.
But now you may be thinking: sir, you have simply traded the shadows of the mind for those of the bottle. You may also be thinking that alcoholism is dreadfully unhealthy, or that it in itself produces its own depressions. All of these things are true. Alcohol is killing me. In its embrace it is too close, too intoxicating for judgement, but in sobriety I see its other face. Like Dorian's portrait, it is my sober self takes on the scars of my alcoholic pleasures. If nothing else intervenes it seems my passage from this world will be at the hands of my loyal friend, and the only pity felt will be my own. My judgement, however, is that the alternative is worse still. A life spent at the whim of a demon I trust is better than that lived under the tyranny of one who remains a mystery. It should be remembered that death is also within the power of the phantoms of my mind. A day may come when the shadow falls so dark, so heavy, that choosing death is preferable than a life beneath its weight. Indeed, while the bottle deals death in increments, the shadow isn't always so charitable. As for alcohol's own shadows, the same reasoning applies there. It is reliable and understood. It comes as a judge, not an assassin. Furthermore, it too yields to the light of the whiskey glass and I apologise, for now I must do the same.